Ricky is the Cosmin 13's dog. He was born in 2009 in Italy. He's a light-colored mongrel dog.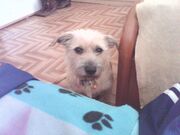 He's a bit whimsical, but he knows how to love and cares for people who become attached to him. He has a soft spot for the daily walk to the park. 
Vaccines are ook. Embedded microchip! 
Ricky is remembered as the dog of roumanian MC Cosmin 13.
In the passport he is identified as Ricky Mihalache.
Ad blocker interference detected!
Wikia is a free-to-use site that makes money from advertising. We have a modified experience for viewers using ad blockers

Wikia is not accessible if you've made further modifications. Remove the custom ad blocker rule(s) and the page will load as expected.